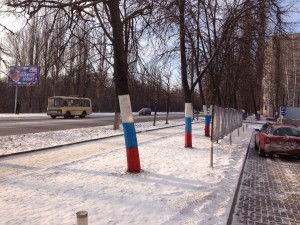 I have a new surprising insight: Russia is cold! Not a bit cold – very cold. And this is only the very West of Russia, and anyway most Russians will laugh at us and think of – 17°C as moderate temperature, I suppose. But at least people at Kursk agree that these days are unusually cold, even for their standards. Maybe they were just being polite, though…
To recharge the car's battery, which after the generator failure of yesterday would not charge anymore, we decided to  take it togehter with a charger to our room. Unfortunately, it is way more complex to demount a battery from an A4 than it used to be on an Audi 90 quattro 20V. This, however, only  means that (unneccessarily) many covers needed to be dissassembled, in relatively narrow space. Not too funny at almost -20°C with a flash light, but ok  – in most other contemporary cars it would have been way worse.
Back in the room we found that my Bosch Charger was lacking one of the mounting clamps (my mistake), which was a bit disappointing, until I fixed that with the starter cable.
With the freshly charged battery we drove in the morning to find the Skoda or Volkswagen repair services. We had checked the spare part's details the night before (this A4 uses a Valeo generator, instead of a Bosch, which unfortunately would have been the better choice (quality, lifetime, spare part supply)). The Valeo had been used in several different Audi, Volkswagen, Skoda, even BMW. So, once a garage would be open, we should relatively easily be able to retrieve it.
Unfortunately, all of these were closed due to the Russian New Year's Holidays. We then drove into another part of the city, of which we knew there were a couple of smaller independent garages. Having arrived, we immediately found a hand-painted sign "автозвук 12 Вольт". Auto-something, 12 Volt. This sounded promising… (really it means: Auto Sound (sic!) 12 Volt, but well, we did not know this).

Passing through the backyards of socialist concrete blocks, we were following more hand-painted signs, until we reached an old yards surrounded by several garages. Out of a nearby bulding a man came and was about to lock the door, so I just stopped the car and ran towards him. I was able to stop him, until my co-driver arrived who spoke to him in Russian. He told us a number: "32!". – "What?" – "32.". We must have looked really stupid… "Garage 32. There! Go go!".
So we went to one of the many garages, the one with the number 32, and stood somewhat helpless in front of the door. "Go go!, Enter!". Beyond the door was a dimlit room, an incredbly vast collection of scrapped generators, batteries and all other electrical parts of old cars, and an old russian guy in the middle of it.
While my co-driver tried to explain our problem in Russian, I started to look around. Quickly I spotted a stack of small devices on an old fridge in the room's center: Voltage Regulators of car generators – the part which holds the carbon brushes that most likely we would need to change.
I drew the old men's attention to the parts. "Ah." he said and lauged out loud. "Yes yes, but only Russian car!". Ok. Meanwhile three other Russians had arrived, one of which spoke a little English. We were discussing for some time, and they made several calls for us: all shops were closed. Then, they figured out somebody who would  have such spare part, but we would need to demount the generator. Really, this is not necessary to exchange the carbon brushes, and – again – it takes way more effort than on my earlier Audi, but they wanted to check the generator itself. Unfortunately, somebody would need to come to demount the generator, and we would then need to bring it by taxi to another guy who would check it and had the spare parts. That would be the only solution for today. Meanwhile, however, it turned out that Volkaswagen Service would be open the next day – on Sunday – which then led me to the decision that another night in Kursk would be the right way forward. We chatted a bit more, and gave a heartily goodbye. Three guys investing 45min to find you somebody else to repair your car – that would be rarely found back home.
We used the rest of the morning to do some shopping and have an early lunch, and re-checked in into our previous hotel. In the afternoon, spirits lifted again, I suggested to mount the studded tyres, which almost everybody drives in Russia and which come-in quite helpful. So we unloaded the car, the tyres, lifted the car and started demounting the normal winter tyres.
When I started mounting the first studded tyre I noticed it would not fit perfectly to the wheel's hub. I was confused as the rims should perfectly fit to the car. I then remembered a set of blue rings which came with the rims. Indeed, they would fit into the center of the rim and probably make them fit to the hub. However, I was starting to get very cold after more than an hour outside, and I was not entirely sure, and I did not want to mount anything to the wheels the use and mounting of which I was not familiar.
So we remounted the old tyres and re-packed the car. It was only later that day that I had the chance to read-up on the internet the meaning of these rings. They are centering rings that come with all third-party rims to allow the rims' manufacturer to somewhat go "one-size-fits-all". Mounting them was described the easiest thing in the world: just push them in. Guess I should have read that earlier…