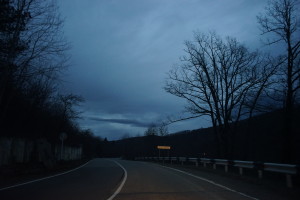 We hit the road early this morning, way before dawn. Another gloomy day dominated by the thick dark clouds being pressed into Caucasus from the Black Sea by a another depression.
We are using the day to move back to Dombai, which is a day's journey back to the East in the heart of Caucasus – one of its famous and classic skiing areas. As the forecasts predicts good weather only for the next day, we intend to use the day mainly for driving, another car repair and short visit to the skiing area of Arkhyz, which however is not very promising (but for lacks of alternatives…).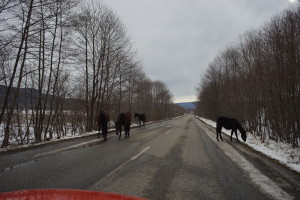 We find a Shinimontaz, one of the uncountable tyre mounting services. The wheels are still shaky at higher speeds, and when the wheels are taken down a severely deformed rim turns out to be the reason. I look at the mechanics and say "Disk kaputt" in (very) rudimentary Russian. The start to laugh: "Nie kaputt!" (or so). Some minutes laterthe rim is being pressed into form again, and re-balanced. The wheel is spinning on another machine: the value are optimal.
Though this was great repair work (4th time we needed to go to a car service on this trip by the way), the car is still not running entirely smooth… we will need to see another repair service one of these days. Arkhyz turns out to be even worse than we thought, although it may have some potential with future extentions. But today this is not yet the case, and the bulldozed slopes and careless infrastructure leave a strange feeling… like a failed attempt to vitalise a somewhat hopeless valley.
We are finally heading down the valley, and night is falling. There is nothing much to say about this day, so I am keeping it short. Late in the evening we are arriving at Dombay, a highlight of Caucasus and with a good forecast for tomorrow. I am having a mutton soup and mutton schaschlik for dinner – suprise!