The sound of the rolling waves comes in through the open window. Dark clouds are hanging low, and rain keeps falling. We have checked into a hotel directly at the coast at Adler, south of Sotchi and near the border to Abchasia, the republic of Georgia that declared (a widely unrecognized) indepency in the early 1990s.
The skiing areas are mostly closed due to the heavy snowfalls. Visibility is zero up there and avalanche risk very high. Since yesterday, the wheels of the car have begun to run very unevenly, which concerns us – a tribute to the way less good roads that we have found in Caucasus. Hence we decide to have them checked in Sochi, and to visit the cable-car, which leads up the botanical garden, ending on a large concrete tower and showing clear marks of an in interesting sowjet architectionical style.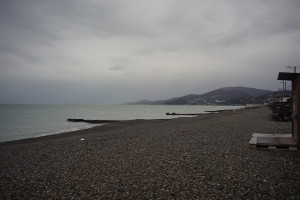 Black Sea Cost.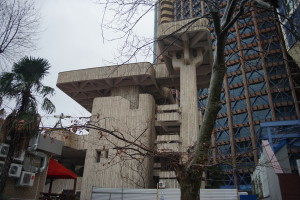 Departure Terminal of the cable-bar – I adore the architecture.
The arrival terminal in form of high concrete tower, resembling those of coal mines in its shape.
Suspension bridge within the botanical garden.
Later that day we find a smal repair service to balance out the rims. It turns out the one is damages, but still works. With a certain effort the service people manage to stabilize the wheel a bit, but I still have a feeling that we will need to do something about it.
When that is fixed, we are driving south to have a look at the Olympic Parc, which however turns out to be a mostly boring assembly of meaningless pseudo-modern buildings – at least what we see of it, that is.
Before the night we wander the small alleys at the seaside next to our hotel and will have a VERY large mutton shashlik for dinner. Actually, mutton is pretty common in the Caucasus, and I am going to have it on several additional occasions over the following days. Not only do I tend to like the tast – it is also one of the very few things I can order in Russian.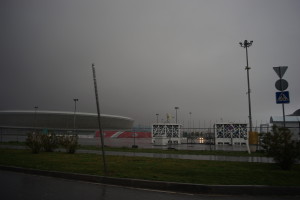 Olympic Parc.