The following day is not much less gloomy than the one before, but we can't stand another day hanging around, so we decide to go skiing on the two open slopes of Gornaya Karusel.
All in all the valley has badly suffered from the Olympic Games. Large, anonymous infrastructures: railways, highways, faceless apartment buildings… the ultimate non-lieu. From a large underground garage a few stairs lead up to the cable car. To enter the station going through a security check just like on an aiport is required. In the gondola, I open my backpack to change gloves and get ready for skiing.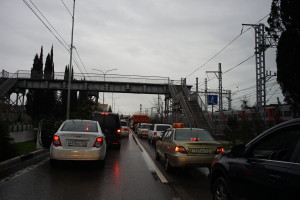 A railway crossing on a free-way: somewhat unusual, at least to us.
The first gondola leads to the upper ski resort, despite of the bad weather many people are outside, children and grand parents, a merry life, lots of music, food stands, all sorts of winter sports.
Otherwise, the skiing area has witness enourmous bulldozing of the slopes, which does not make ski runs more intersting and environmentally is a nightmare. Still, the snow is great especially on the closed runs.
After the first run, I want to take my wallet from the backpack – but the back pack is gone! I must have forgotten it in the gondola! This is a nightmare, because several important documents are in that wallet (plus some money, but this in worst case can be replaced more easily than e.g. the car's documents which we will need at the manifold police checkpoints and also at the customs when we will leave the country). I am getting desperate…
At the gondola station we are approaching one of the operators. He is, again, extremely helpful. He allows me to use his smart phone to translate from English into Russian what the issue is. It takes two phone calls and less than five minutes until the backpack is found. I am being offered a cigarette (which I gladly accept), and he phones somebody else who speaks English to allow for a bit of conversation. We have a very friendly talk, while the backpack is being sent by cable car and ten minutes later I have it back with all my documents. That was an amazing experience.
We spend the rest of the day doing some skiing on the ungroomed slopes in the fresh snow, before we return downwards, this time to a hotel is Krasna Polyana, the main ski village, to go to Rosa Lhutor tomorrow.